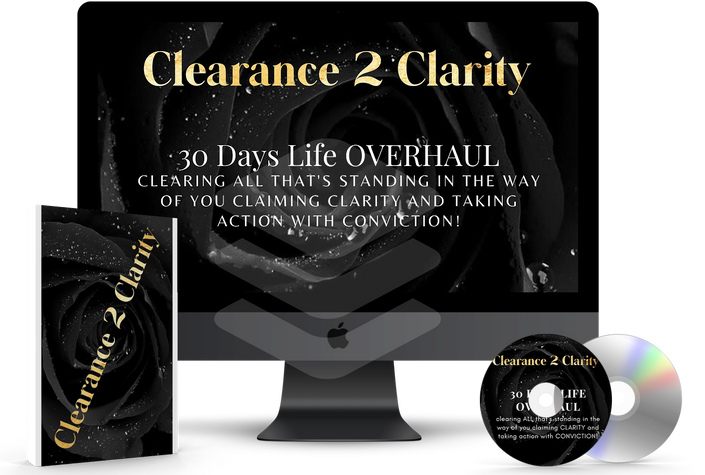 Clearance 2 Clarity
Life OVERHAUL clearing ALL that's standing in the way of you claiming CLARITY and taking action with CONVICTION!
Watch Promo
Enroll in Course
Hey Alpha
---
OMG I'm so excited that you've found your way here!
I woke up this morning and felt into my awareness,

loving the way my body feels, strong and healthy and deliciously feminine all at the same time.
I loved the way my bedding held the perfect temperature, soft and sensual on my skin.
I switched on the light and was greeted by the most beautiful sight.
I smiled.
Every single item my eyes rested on was beautiful and I thought to myself "What a blessed way to start the day!"
This is what sets the tone for everything to follow.
Less than a year ago, this was not the case.
In fact, it was the complete opposite.
I lived in a space that felt heavy with the energy of my now ex-husband and even though we parted in love, there was a lot of old negative emotions infused into the fabric of everything around me.
Thing is, I never realised the impact this was having on EVERYTHING!
I did my mindset work every single morning,
and yes, I will admit that to the world it looked as though I had hit the sweet spot of success,
Business was good,
Money was good,
Clients were good,
But I wasn't thriving!
And In All Honesty, Good Wasn't Good Enough Anymore
So I asked my Inner Alpha (IA) what was the aligned action to take?
Her answer, crystal clear!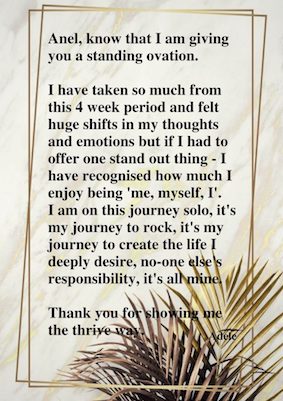 It was time to release,
clear out,
EVERYTHING
That was not an energetic match to where I desired to be next.
Let me tell you this was no small feat!
After 19 years of marriage, majority of what you have belongs to a married woman who feels she has to show up in a certain way,
A woman who was considerate in not making her space too feminine,
A woman who toned herself down,
Settled,
Held on to what was functional and useable so as not to be frivolous in spending.
I'm not just talking about my household.
I'm including my thought patterns,
the people I were connected to on social platforms,
my 'friends',
the whole caboodle.
It felt scary AF,
It felt like the last pieces of 'certainty' was being pried out of my grip.
The little girl in me wanting to bargain a little,
But IA was not budging on this one.
And so most of what I had,
Ended up in charity bins or released to the Universe.
I discovered so much about myself in the process,
I was finally able to remember who I am and what I truly love,
I was finally confident enough to show up the way I am
and today I am delighted to share this work with women just like you!
It's time for Clearance 2 Clarity.



Alpha Females who are ready to create their next level thrive and they want to travel light into the future.

Women who are natural givers, who are ready to receive and for most of us, this is challenging. Finding a space strong enough to not only hold our energy but GIVE to us, that takes some doing. And THIS is one of my soul gifts Darling.

Alpha Females who are ready to fall madly in love with themselves and their lives by reconnecting with their physical, emotional and spiritual selves and from a space of deep self-acceptance, self-appreciation, self-respect and self-love build their next vision life..

Women who want to have fun and connect with like-minded souls who take a stand for creating abundance and beauty and who are ready to bring it home.
Darling it's your time!
I've been professionally coaching driven achievers for more than a decade and I've paid attention, keeping my finger on the pulse so to speak, where most simply implement the same old strategies as before.
The truth of the matter is that the world as we know it, is changing.
There is a rising of the empowered feminine where more and more alpha females are stepping away from toxic codependent relationships in romance, friendship and business, reclaiming themselves and for the most part, this crossing over into their true nature can feel a little scary and mostly isolated. I'm putting an end to that shit by creating a welcoming space for you where you will feel SEEN and CELEBRATED!
It's where we question the traditional way of doing more
And connect with our feminine desire of being more.
Where we lovingly release the need to prove ourselves
And drop into being enough - and brilliantly so!
Where we stop the relentless push
And allow ourselves to flow with the stream of Well-Being,
Receiving our desires with grace and scrumptious delight.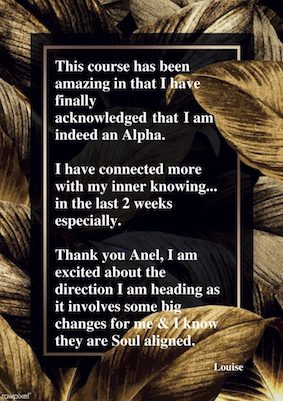 This program is like no other.
Clearance2Clarity is the foundation to your thrive.
This process is not a once off action because life quite frankly is not a once-off event.
It's a continuous spiral
Up
Up
Up
And every time we're ready to expand and step out Clearing is essential.
Which for me meant creating a process that feels FABULOUS which women like us WANT to do again and again.
I mean seriously Darling,
I don't know about you but I'm done with 'obligatory sex' that feels like duty instead of delight.
I'm insisting on thrive in EVERYTHING I invest in,
And considering investing my time is most precious of all,
It's going to have to be of exceptional value and energy.
Clearance2Clarity is where we get to do the 'hard' work in a way that
feels 'easy' and fun and supported. It's where we cry the tears that are ready to wash away old hurts and the tears that spill over in joy.
It's also where you get to activate some serious energy, strength and CONFIDENCE by engaging your body.
I show you how to balance action with pampering with detoxing with nourishment which will take your life-performance to a brand new level.
I guide you every day with just enough mischief to cause that it never feels overwhelming and the beauty is that this process is designed for you to go as deep as you can go now, because you will go deeper next time around.
That's right!
Clearance2Clarity is designed to be a signature program and each time she's run live, you will have access which means, you continue to be supported in your clearance and thrive!
Here's What You Get When You Sign Up For C2C:
#1 - To the point training
Daily short and punchy training that gives you clarity on exactly what to do today and why to do it.
If there's one thing I know, it's that as purpose-driven women, we don't have time to sit and listen to hours of training every day which is why I've designed this to be 15 - 30 minutes max at a time, and then you get to play.
#2 - Daily Mischief to Keep on Track
You get daily mischief missions to complete with precise instructions, check lists and journaling prompts for deeper connection.
Plus to ensure you keep on track, I give you a list of preparation so you have everything down to the last garlic clove before we kick off - bye bye energy vampires!
#3 - Fighting Fit Fifty!
Also affectionally known as FFF.
Your body is an extraordinary tool for confidence, clarity of mind, breaking of thought patterns, and more. This is the missing piece in so many mind-set courses. I'm not only going to give you the opportunity to grow physically stronger in our time together, but boost your confidence and sky-rocket your belief in yourself. In fact, women don't want to stop once they get started and make this a part of their routine long after the course has ended.
You will know by seeing this that now is the perfect time for you to clear and receive clarity on your next desires.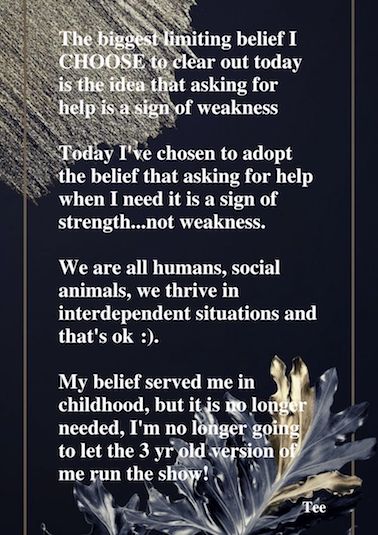 Will You Say YES?
Yes to clearing your external environment leaving you in a beautifully expansive space?
Yes to clearing your online connections leaving you with an inspirational, high vibrational feed regardless of where you go online?
Yes to clearing your internal environment releasing all the old beliefs that is stopping you from taking the action for next level outcomes?
Yes to clearing your business environment leading to new levels of creativity and clients?
Yes to clearing stuck energy of resentment or jealousy or irritation so your relationships can flow with love?
Yes to reconnecting with your body through movement, self-love, nourishment, pampering so you start working WITH your body instead of punishing her?
Yes to increasing your confidence and self-belief of what you're capable of doing thereby eagerly becoming braver and more adventurous?
Yes to remembering the amazing tools gifted to you in this lifetime to create an exceptional experience and how to use them effectively so that you create a state of effortless receiving and only taking aligned action?
Yes to owning your true desires thereby allowing them to come to you?
Yes to creating the vision of your best next level self thereby allowing yourself to step into her?
Here's A Recap Of EVERYTHING You'll Get When You Join Clearance 2 Clarity
To the point trainings on what to do and why to do it ensuring follow through to completion

Daily missions and completion lists

Fighting Fit Fifty with Daily Journaling Prompt
Your Instructor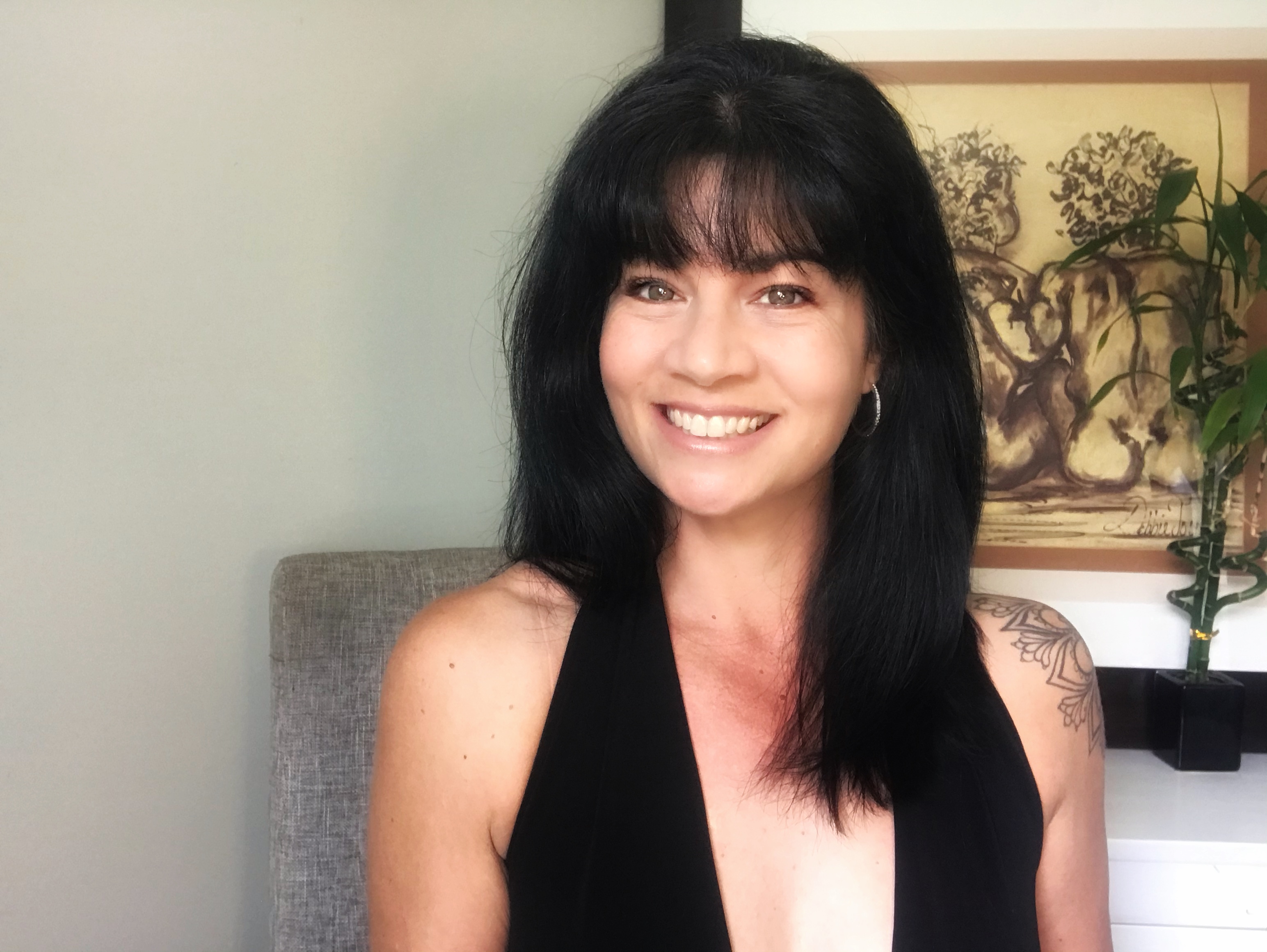 You Are ENOUGH! You Are POWERFUL! You Have VALUE! You Have Purpose.
THE REALIZATION YOU'RE CO-CREATING EVERY MOLECULE OF YOUR LIFE, AND THE AUDACITY TO LET YOUR SOUL RESURFACE SETS YOU FREE.
I believe in becoming a master in your craft: leaving behind averageness, living an inspiring (and sometimes terrifying) existence.
A life where body, mind and soul are connected and work together to build you into one of the elite.
What that requires:
Less hand-holding and more truth telling
Eradication of the mediocrity epidemic and victim mentality
Deep inner work and aligned action
I'm Anel, Instigator of a Thrive Evolution for Alpha Females, and I believe you deserve far more than the bullshit handed to you on a daily basis. I want every person to aim higher, go further and be-phenomenally-happy.
You, my darling, were born for the magnificent purpose of enriching other lives and every day you choose to play into excuses, fears, or frustrations, someone else is hurting because you haven't stepped into your power.
Here's the good news:
At any moment, you can turn on your power and change, because you are ready – and strong enough – to live a real, raw, fulfilling life.
Course Curriculum
Welcome
Available in days
days after you enroll
Frequently Asked Questions
When does the course start and finish?
The course starts now and never ends! It is a completely self-paced online course - you decide when you start and when you finish.
How long do I have access to the course?
How does lifetime access sound? After enrolling, you have unlimited access to this course for as long as you like - across any and all devices you own.
What if I am unhappy with the course?
We would never want you to be unhappy! If you are unsatisfied with your purchase and you can show that you've done all the work and NOT gotten any results, contact us in the first 30 days and we will give you a full refund.