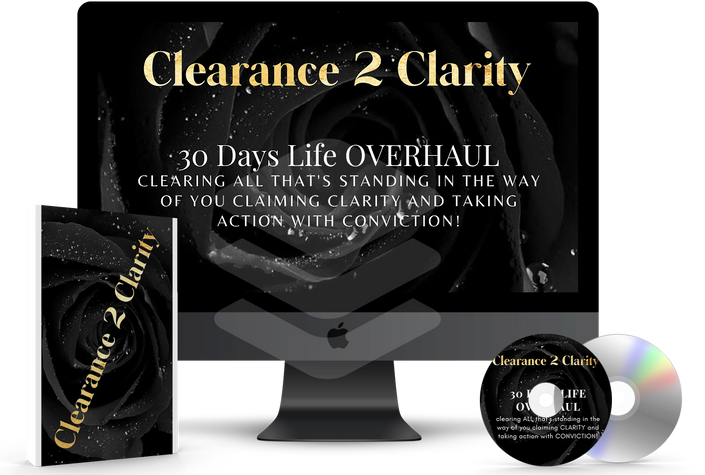 Clearance 2 Clarity
4 Weeks Life OVERHAUL clearing ALL that's standing in the way of you claiming CLARITY and taking action with CONVICTION!
Watch Promo
Enroll in Course
For Alpha Females Ready To Take Full Responsibility
Eradicating All That's Standing Between Them And Their Desires.
Hun,
You deserve better than this
This frustrating state of indecision.
After everything you've gone through to get to this place,
All the sacrifices you've made,
All the courage you've shown,
You deserve to wake up in the morning with clarity and certainty.
I'm so proud of you and how you choose to continuously step up in the world.
Even though it's so damned uncomfortable.
You inspire me.
You keep me focused on showing up,
Every single day,
Regardless of my own demons.
Which is why it breaks my heart to see you stuck like this!
Settling a moment longer than is needed.
Yes, I honour your journey.
But I also know that your journey has led you to this point.
Now,
It's time to take the next step.
You deserve to finally connect to who you really are,
And from a space of absolute conviction,
Create the life you've always dreamed of.
You've settled for less long enough, as you thought you had to take responsibility for everyone else first.
Indecision is the thief of your brilliance.
Everywhere I turn, I'm hearing women ask for clarity!
That they simply don't know what's next,
whether it's what to do next in their business,
or if it's time to start a business,
what's the next goal to set,
what the next phase of life look like.
Except,
I know you always know.
The reason why you don't have the clarity you desire,
Is simply because what you NEED,
Is clearance and a reclaiming of who you are.
You see Gorgeous,
You already have all the answers inside of you.
You were born with the blueprint to your legacy.
Plus, each time you go through an experience, your Soul in her divine wisdom, creates a path to your desires and she makes it known to your heart.
Where you want to go,
What you want to experience,
What would it feel like to have an incredible,
Expansive,
Beautiful,
Fun,
Free,
ADVENTURE.
You've lived through enough shit to know what you love and what you detest.
You've had sufficient experiences to have connected to what lights you up and what dims you down.
You already know,
But you're doubting yourself
As you're confounded by clutter, disbelief and fear.
In your environment,
In your mind,
In your body,
In your habits,
In your beliefs.
It's time for Clearance 2 Clarity.
This program is for the woman who has reached a crossroads:
There's the safe option - where you know exactly where you'll end up, except safe is not feeling extremely exciting anymore. Safe has you existing, settling, numbing;
There's the likeable option - where you will remain the same thereby ensuring the homeostasis of your environment. Not upsetting the apple cart. Pleasing everyone else.
Except, you've done this all your life. When will it be YOUR time?;
There's the compromising option - where you're taking another crumb, just enough to make you feel a little better but not so much that you will get any backlash; and then
There's the insane option - where you leave behind all your limiting beliefs, be prepared to be uncomfortable AF, tread on toes, cut the ties of codependency, and liberate yourself from all the secret guilt you're carrying around like a crucification cross.
I'm going to say that this program is for the woman ready to say "To hell with it!", ready to dive down the rabbit hole, where only those crazy enough to believe in themselves, dare tread.
Crazy bitches like myself.
Playing to win.
Howling in the dark whilst the sheople hunker down in the shelter of mediocrity.
This program is for the Alpha Female who is not precious on being seen as perfect.
Your desire to be happy, is stronger than your egotistical programming to be right.
There will be sore muscles aka DOMS - you're welcome.
There will be discomfort - push through it.
There will be sacrifices of low vibrational stuff - let it go!
You will be held accountable.
You will be challenged.
You will become unstoppable.
Why?
Because your true hunger for clarity is greater than the discomfort of growth.
This program is like no other.
You will be taken through detoxification, stripping back, clearing out:
Your closet,
Your fridge,
Your body,
Your beliefs,
Your habits,
Your routines,
Your business systems,
Your relationships,
Your stories of why you can't have it all
You will activate your 3 ALPHA chakras through the Fighting Fit Fifty:
Base chakra for money - SQUATS
Solar plexus chakra for confidence - Burpees
Heart chakra for self-love - Push-ups
You will connect to your SOUL-Vision,
Reintegrate the parts of you that you've abandoned along the way,
And as your perfect self,
You will KNOW without a shadow of a doubt,
The next step to take as you illuminate your success avatar.
You will be part of an exclusive group of women who, like you, are ready to shut the door on average anything.
Alphas who will not let you remain weak in any area because in our world,
You show up
With pride
With power
With a will such as you did not know existed.
THIS IS WHERE THE PRINCESSES GET SEPARATED FROM THE WOMEN.
Your environment determines your ultimate success.
Internal and external environment.
What I've found is that the culture we currently live in, does not have much space for women like us.
Women who roll their eyes at the continuous demand for sympathy.
Women with no desire to compete with men or other women.
And no craving to molly-coddle others,
Or be wrapped in cotton wool ourselves.
We LOVE being called out on our shit,
And to respectfully call bullshit for others.
We LOVE pushing our bodies,
Smashing the glass ceilings.
So I'm creating the environment for you.
This is where you get to finally play full out - unapologetically, raw, real, YOU!
We understand that our true power comes from the nuclear effect when mind-body-soul is activated in unison.
Time to go BOOM!
I know that we're always told to meet people where they're at.
Erm,
No.
You want to play with the alphas,
You step up!
You find a way,
You seek your courage,
You look me in the eye and you tell me:
"Bring it on Beatch!"
This program is NOT for the masses.
I'm only looking for serious players.
This is NOT for those who don't want sore muscles.
This is NOT for those who tell me they don't like the taste of water.
This is NOT for those who don't want to do the work.
This is NOT for those who blame, shame or complain.
What you might also be interested in knowing,
Is that THIS is the 'buy-in' for my mastermind program - Fight Club.
Without completing C2C, your future application will not be considered.
I've come to understand that we truly are the 1% in the 1%,
And that mental strength,
More than money in the bank,
Is what will ultimately dictate your level of commitment and enjoyment of my no BS approach to thrive.
Plus, this gives you the knowing that those sitting on your 'board of directors' are made of something special -
Belief in self / Pride / Conviction / Discipline / Zero excuses.
Sweetheart,
I know that being an Alpha Female can be lonely AF.
People love to admire us from afar,
And then,
When they get close and discover it's not all show,
That we truly are Beauty AND Beast,
They either flee or fight, and then leave anyway.
I know that balancing the masculine and feminine inside of us can feel like a constant see-saw ride.
It took me years to finally get the balance right so that I could stop feeling dizzy from the violent up and down.
I've lived that endless struggle of fighting for my moment in the light,
Only to be cut down by those bitchy tall poppy snipers.
I know how shit it feels to finally snap the elastic band only to wake up in complete isolation.
This is me taking a stand for YOU,
And saying,
YOU ARE NOT ALONE.
I'm here to not only challenge you,
Not only support you through this process,
But to celebrate you in an environment where you will never be too much.
I'm combining all my talents and experience as a mindset coach, a personal trainer, a yoga instructor, an entrepreneur, an IronMan athlete, and above all, a BORN ALPHA, to bring your clarity on your next step.
And if you're then ready to level up, you get to apply to my exclusive MasterMind.
Or not.
Here's What You Get When You Sign Up For C2C: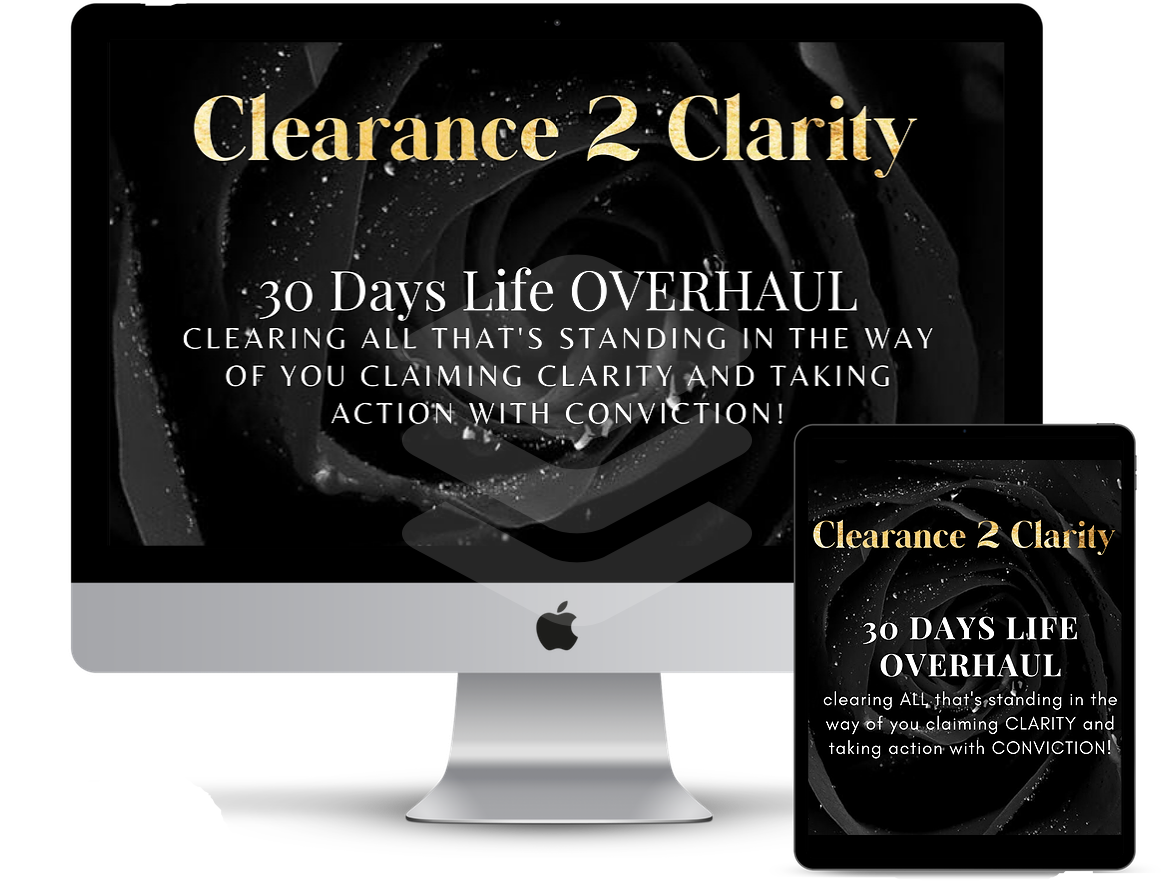 #1 - To the point training
Short and punchy live training that gives you clarity on exactly what to do and why to do it.
If there's one thing I know, it's that as purpose-driven women, we don't have time to sit and listen to hours of training every day which is why I've designed this to be 15 - 30 minutes max at a time, and then you get to take action.
This is also where you get to ask me any questions.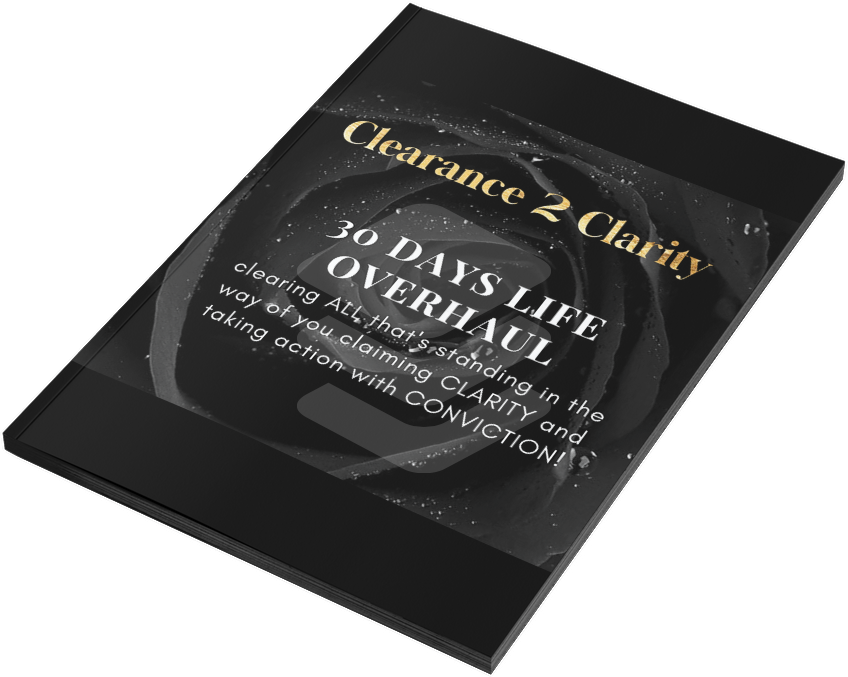 #2 - Daily Mischief to Keep on Track
You get daily mischief missions to complete with precise instructions, check lists and journaling prompts for deeper connection.
Plus to ensure you keep on track, I give you a list of preparation so you have everything down to the last garlic clove before we kick off - bye bye energy vampires!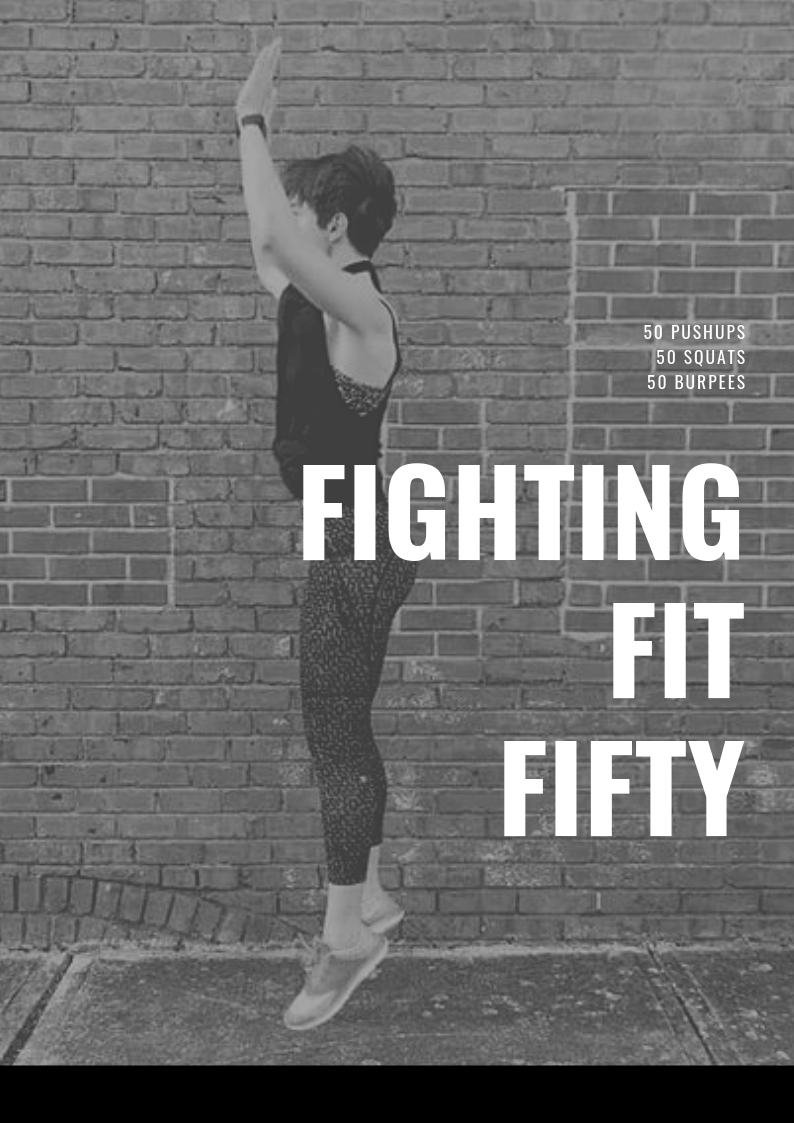 Also affectionally known as FFF.
Oh, you're going to LOVE to hate these because from day one you're going to feel the challenge and break through the limiting beliefs that could possibly prevent you from completing this program.
For those brave enough to rise to my challenge...
Bonus #1: Personal Accountability Coach
I've got you covered!
One of the reasons so many women never finish a group program, is because it's TOUGH to go from meandering along to full steam ahead.
There's days when we're on fire and days when we hurt like a mofo and just want to throw in the towel.
I'll NOT leave you behind.
Which is why every participant will receive a personal accountability coach for daily check-ins via Voxer and motivation as and when required. These are my apprentices and let me tell you Darling, they rock!
I'm calling in your comrades in arms.
A private Facebook Group where all the live trainings will be held plus you get to surround yourself with Alpha Females who, like you, are determined to drop all the BS, get laser focused, and go next level!
Here's what other women just like you had to say after using my approach of mind-body activation:
"I am a chronic self sabotager who is really quite confident and successful.
However the challenge let me see how much more I could do with my body and my life if I actually let go and allowed myself to do what I was capable of.
I always knew that I could do whatever I wanted in life but knowing and actually believing and having the balls to actually do it are quite different."
"I signed up for Anel's program thinking that it would be a good kick-start to a new fitness routine. I was quite right about that. My bum is higher and tighter for sure.
What I didn't understand or expect, at least fully, was how much it helped me grow and become empowered as a successful coach.
I will be totally candid. I had been 'playing' coach. I had taken all of the glamorous parts. The dedicated business moves part? Not so much. I mean, yes, I was doing it. But I was doing it in a pinball way. A little of this, a little of that, oh butterfly, and off I would go.
This program changed all of that. I became more disciplined and smart in my business. My confidence went through the roof. My results showed, having the most clients and most prospects ever during and after the challenge.
I increased my rates. I even got more centered and clear in my communication with my husband. That alone was worth much more than the cost of the program.
If you have read this far, do this program. Your body and your business beg you!"

"This is the most fucking incredible program, m'dears, and is worth the weight of 100X the weight of your ass in pure gold.
The epiphanies and learning come at you from MANY angles, and you'll be supported by the fiercest and most courageous in the industry. I learned a fuckload about myself, my business, how I show up, how I don't, how I sabotage and what the fuck to DO about all that... all while feeling more and more brave and courageous (because WHAT and example Anel sets - wow) and empowered enough to actually fucking DO IT.
You can take this epic shit to the bank.
Thank you Anel, from the bottom of my root chakra!"
You Might Be Thinking Next Time - Except You And I Both Know That The Reason You're Seeing This Program Right Now, Is Because Right Now Is Your Time For Clarity.
Yes! I'm ready to rid myself of all that stands between myself and the clarity that I know is required for my next level of success
I Understand That When I Act Now,
I get lifetime access to the C2C membership site, which includes:
* A brilliant infusion of mind / body / soul activation through effective strategies
* The only workbook I will need every time I'm ready to up-level
* Templates for business organisation
* A state of confidence and conviction that will change EVERYTHING in my life.
Here's A Recap Of EVERYTHING You'll Get
When You Join Clearance 2 Clarity
To the point live trainings on what to do and why to do it ensuring follow through to completion ($2999 Value)
Complete workbook with daily missions and completion lists ($399 Value)
Fighting Fit Fifty with Daily Journaling Prompts ($199 Value)
Bonus: Personal Accountability Coach ($999 Value)
Bonus: Community (Priceless)
Bonus for First Ten: 30 Minute Private Coaching Session ($555)
Right now you're getting all of this...
For Only For $497
Your Instructor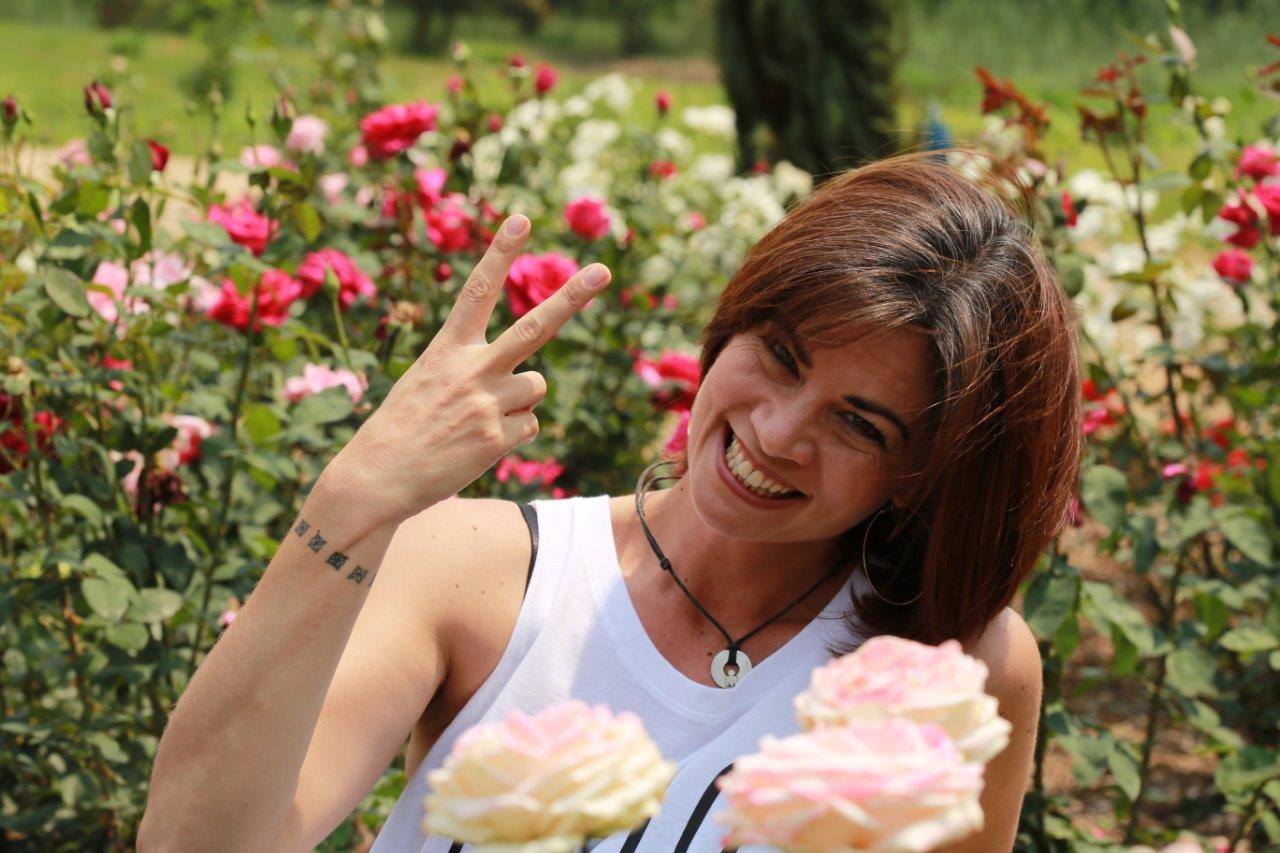 BECAUSE AN UNBEATABLE MINDSET, THE REALIZATION YOU'RE CO-CREATING EVERY MOLECULE OF YOUR LIFE, AND THE AUDACITY TO LET YOUR SOUL RESURFACE SETS YOU FREE.
We've created a culture that slaps Band-Aids on ouchies without considering what's festering underneath. We tell each other what we want to hear and encourage ourselves to heal surface wounds without investigating roots.
You see it in personal relationships with friends (honey, that last drink probably just took the edge off) in business friendships (Girl, you don't need to listen to your coach. She must be having a bad day or something) and in romance (it's just the way things are once the honeymoon is over!)
And in this entirely-fake and way-too-polite coma, you're spoon fed reasons (excuses) why your life should be adding into the big 'ol equation you created when you bought into the story of your expected roles and responsibilities forgetting who you are and what you really desire (you + your dream = a foolproof, winning pair, a dud).
Why does this suck?
What you think is aloe is actually napalm and we're blowing shit up: confidence, clarity, and cash flow casualties of fake-ass conversations.
WOULD YOU RATHER BE FED A STEADY STREAM OF BULLSHIT OR THE TRUTH THAT LEADS TO SUCCESS? IS YOUR EGO MORE VALUABLE THAN YOUR HAPPINESS?
I believe in becoming a master in your craft: leaving behind averageness, living an inspiring (and sometimes terrifying) existence.
A life where body, mind and soul are connected and work together to build you into one of the elite.
What that requires:
Less hand-holding and more truth telling
Eradication of the mediocrity epidemic and victim mentality
Hard, purposeful and focused work
I'm Anel, Alpha Thrive Coach who believes you deserve far more than the bullshit handed to you on a daily basis. I want every person to aim higher, go further and be-phenomenally-happy.
You, my darling, were born for the magnificent purpose of enriching other lives and every day you choose to play into excuses, fears, or frustrations, someone else is hurting because you haven't stepped into your power.
Here's the good news:
At any moment, you can turn on your power and change, because that gorgeous brain of yours is ready – and strong enough – to live a real, raw, fulfilling life.
Course Curriculum
Welcome
Available in days
days after you enroll
Frequently Asked Questions
When does the course start?
We kick off August 26th 2019 - your FB group is already open and waiting for your arrival.
How long do I have access to the course?
How does lifetime access sound? After enrolling, you have unlimited access to this course for as long as you like - across any and all devices you own.